SUSSEX PHOTOGRAPHY WORKSHOPS
Currently scheduled open photography workshops in East and West Sussex, and London
Storrington Workshop
Slawek has an uncanny ability to find dramatic lighting and stunning viewpoints that make even the humblest of landscapes stand out. He recently gave such an inspiring talk at Haslemere Camera Club that a group of us immediately arranged to go one one of his workshops and a couple of weeks later we duly arrived… Read more "Storrington Workshop"
Clinton Blackman LRPS, CPAGB
26th March 2020
Landscape photography workshop in Rye, East Sussex
4th November 2023, 11.30am-4.30pm
Meeting spot: South Hill Barn car park (BN25 4JQ, map)
Seascapes and long exposures.

2-3 miles of walking on rough terrain.
Available spaces: 6
Price: £70
Gift certificates are available for all photography workshops (group and individual)
About group photography workshops
One-day group photography workshops/courses are held on Saturdays and Sundays across a variety of locations in East and West Sussex. Sometimes further afield in South East England (Kent, Surrey, Hampshire and London).
The subjects and themes include the South Downs and general countryside, woodlands, architecture in villages and towns. Also cityscapes, seascapes, long exposures and "blue hour".
By BACS, you'll receive the bank details when you get in touch with your booking.
Payment is not automated on the site, because I would like to first get some basic information about your experience level, kit and expectations from the workshop. Some workshops require specific lenses/focal length if you want to get the most out of them. I might suggest joining a different session or taking a lesson first.
You can cancel your reservation up to a week before the session and receive a full refund.
If the workshop is rescheduled due to adverse weather and you are unable to attend on another date, you will receive a full refund. You can also choose to join another session instead or use your credit towards a bespoke workshop or lesson.
Gift certificates are not refundable/redeemable in cash.
What to expect during a group photography workshop
Everyone gets individual attention, so you will get help and advice tailored to your needs.
On the technical side you can expect help:
choosing the right settings for the scene/subject matter, including shooting mode, ISO, aperture, exposure compensation etc.
working with Histogram
focusing and working with depth of field
using filters
On the creative side of landscape photography:
choosing your perspective
composition
making the best of available light
timing and planning

You'll meet like-minded people and probably learn from them as well as from me. There is always good, relaxed atmosphere on my workshops, so don't feel shy about joining.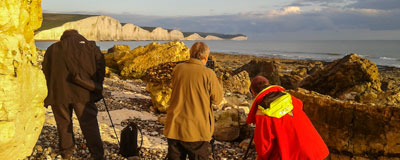 Frequently Asked Questions
If you have any other questions or doubts: