The Falmer Triangle - a photographic guide to the South Downs near Brighton
Falmer / Woodingdean / Kingston near Lewes
The "Falmer Triangle" – a triangular area between Falmer, Woodingdean, and Kingston near Lewes in East Sussex is where I started my exploration of the South Downs in 2007-2008. It was within walking distance from where I lived at the time, so the choice was natural. But thankfully the place also abounds in photographic opportunities, and it played a major role in how I developed my telephoto approach to photographing the downs. Apart from some excellent possibilities for telephoto landscape, the location also offers scope for more traditional, wide angle approach.

On the north and west side, the area is delineated by the A27/railway line and Falmer Road (between Falmer and Woodingdean). The east boundary is somewhat arbitrary. However, while you can certainly explore further east – there are footpaths and access land – I find that either you lose the higher ground, or the views become less inspiring.
The whole "triangle" can be easily explored within 2-3 hours, following a (partly) circular trail with some detours. I'm not suggesting a specific walk to cover everything, but rather a selection of some of the highlights with vantage points marked on the map (the maps used to illustrate them are Ordnance Survey, available via Bing maps).
Access points and parking
The area is best approached from the west: from either Woodingdean or Falmer; or from the east: starting in Kingston near Lewes. Described below are the most convenient access points with parking areas, and some public transport alternatives.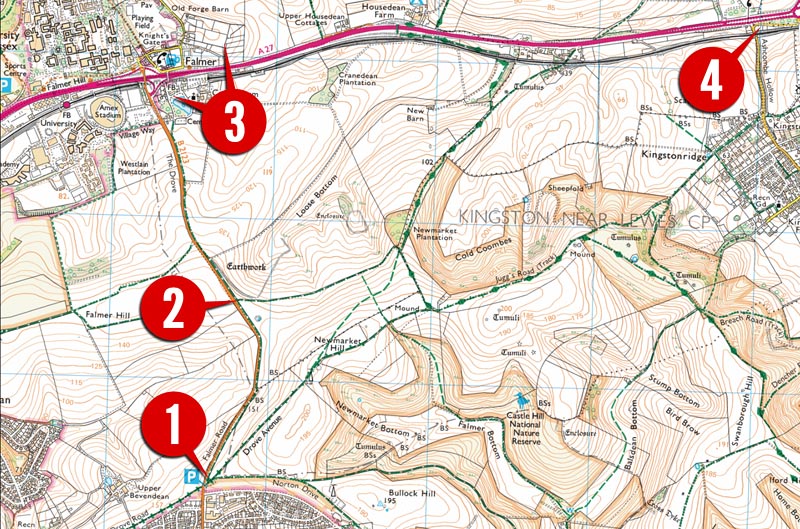 1. Castle Hill car park, Woodingdean
A small dirt-road car park just north of Woodingdean; nearest postcode: BN2 6NT. The parking is often packed, especially on weekends. As an alternative, you can find on-street parking in Woodingdean.
Public transport: buses to Woodingdean from Brighton centre (numbers 2 and 22 running frequently throughout the day, www.buses.co.uk)
A very convenient access point for motorists, but there are only a few spaces available, so depending on the time of day, the lay-by might be full. If you start here, a 15-minute walk will take you to the amazing Cold Combes.
There are no public transport alternatives – start either in Falmer or Woodingdean.
It's a slightly longer walk from Falmer, but the village itself might be worth exploring, especially the area around the pond and St Laurence church. If you're lucky and there are no cars parked in front of the church, that scene could be a good opportunity in its own right. There is free on-street parking in the village, it is time-restricted though. Postcodes: BN1 9PB / BN1 9PD.
Public transport:
1) buses to Falmer from Brighton centre (numbers 25 and 28/29 running frequently throughout the day, www.buses.co.uk)
2) frequent trains to Falmer from Brighton (www.southernrailway.com)
4. Ashcombe Hollow car park / Kingston near Lewes
A medium-sized dirt-road car park between the A27 and the railway line; nearest postcode: BN7 3JS. From there a 20-25 minute walk will take you to the top of Kingston Ridge. If the car park is inaccessible or full, you can look for on-street parking in Kingston village. Wherever you park, be prepared for a steep climb to the ridge.
Public transport: buses from Brighton centre (numbers 28/29, www.buses.co.uk).
A few suggestions and examples of what you can capture within the "Falmer triangle". This is by no means an exhaustive list, that would be impossible to compile. But it should give you a good indication of what to expect at different locations in the general area.
Views from Drove Avenue
and footpath along Falmer Road
If you start your exploration at the Castle Hill car park, you might be able to find some opportunities just a couple hundred metres from where you left the car. These views, looking west and north-west, can be particularly effective for telephoto landscape on late-spring or summer afternoons. With interesting skies and some swaying crops, there's also potential for wide angle.
June evening. Looking north-west from the footpath along Falmer Road across the valley near Bevendean.
Afternoon in early August. Looking up the Drove Avenue (north-east).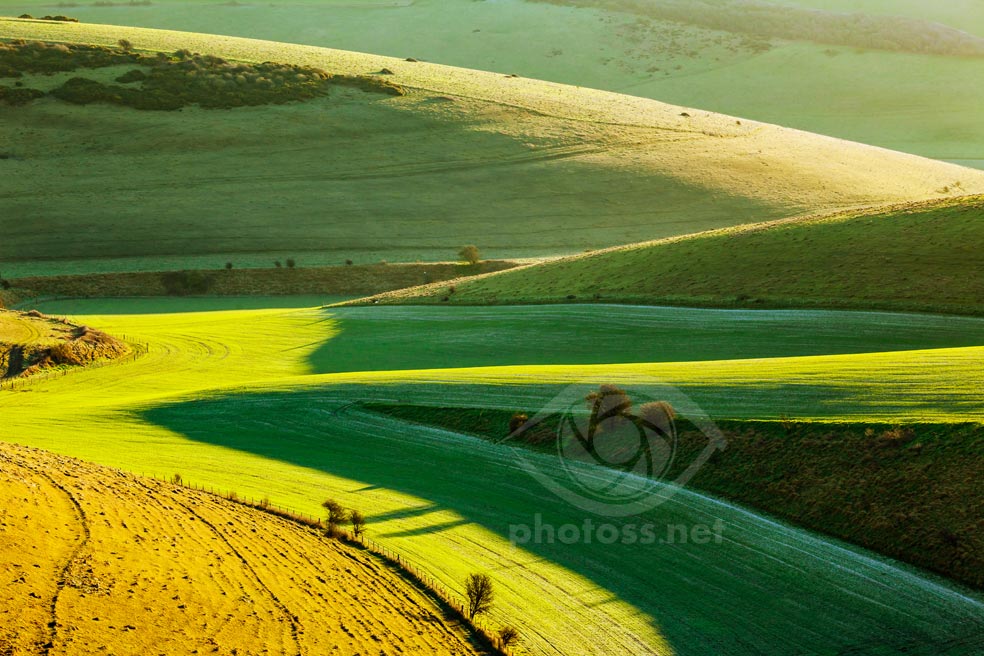 Early morning in January. Looking east from an unmarked footpath on the access land.
Castle Hill Nature Reserve
A 10-15 minute walk due east from the Castle Hill car park. Keep left and when you walk through the first gate, turn left onto access land (don't follow the footpath leading east). Within minutes an unmarked footpath will take you to attractive views of a valley with interlocking shoulders. This location works best early in the morning and could possibly bring great results in any season.
Views from footpath south of Falmer
Some scope for telephoto landscape with views generally looking north and north-east (you'll probably need really long focal lengths, north of 400mm, for best results). Some wide(r) angle opportunities as well, depending on the time of year. Theoretically, these spots should work best in the morning, as far as telephoto landscape is concerned, given which way you have open views. But in practice it's possible to get something in the afternoon as well.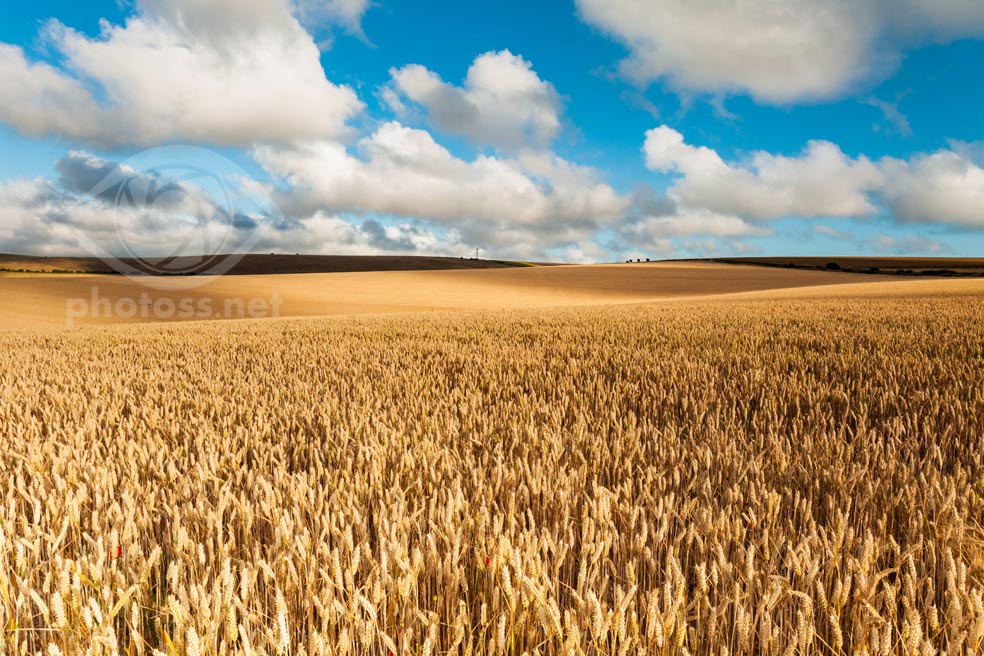 Afternoon in late July. A view near the Falmer footpath, looking east.
Morning in May. Looking north-east from the footpath south of Falmer.
October afternoon. Although the range of available (telephoto) views limited to north-easterly directions makes it primarily a sunrise/morning location, it's not impossible to get some interesting results in the afternoon.
Early morning in April.

Afternoon in May. Even though the terrain and vantage points make it a primarily morning location, Cold Combes' extraordinary lie of the land can create possibilities for abstract landscape at any time of day (and year).

Cold Combes (viewed from the west)
The Falmer lay-by is the closest access point, the walk from there takes about 15 minutes. Due to the terrain relief and available vantage points offering views looking east and north-east, this location works best in the morning. While you could get decent results at any time of year, in my view it offers best opportunities in the period between mid spring and autumn.
This stretch offers the greatest variety of options out of all the spots discussed here. Views looking north and north-west, across Cold Combes and on toward Long Hill and Balmer Down on the other side of the A27. An afternoon location, good opportunities throughout the year. Since the viewpoints along the footpath are in the middle of the triangle, it takes a comparable amount of time to reach them from any of the access points.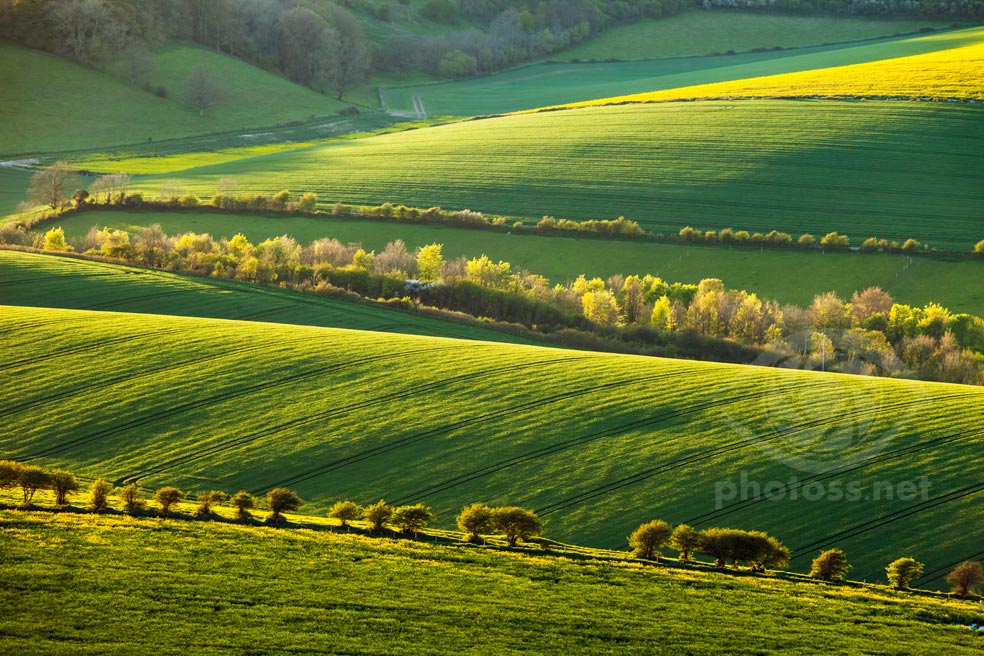 Late afternoon in May.

Mid afternoon in November. Taken during a 1-1 workshop.

January afternoon.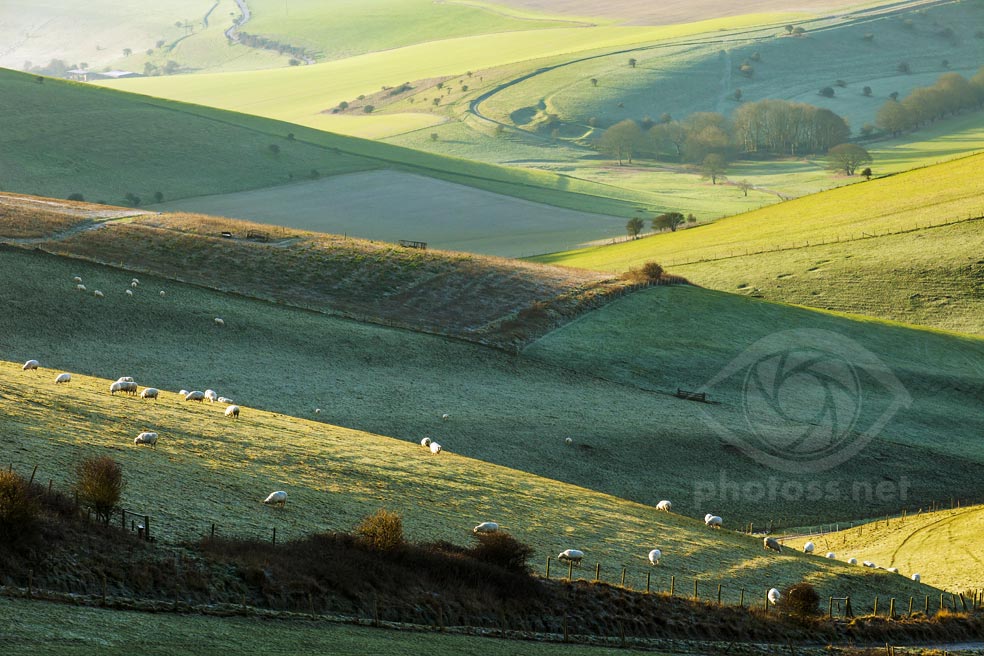 January morning.

Views west of Kingston Ridge (towards Stump Bottom)
While theoretically you could get interesting results here at any time of year, if only the weather is clement enough, for me these vantage points work best on winter afternoons. Ashcombe Hollow/Kingston village are the closest access points, but they also mean the most intense workout (the climb to Kingston Ridge is steep).
Views from Kingston Ridge
I've always found opportunities available from these vantage points less obvious and more elusive, compared to many of the other spots. Still, I believe there is some potential here as well. Apart from possible telephoto takes – see examples – there are countless conceivable views on the village of Kingston, Ashcombe Windmill, Ouse Valley, Mount Caburn, Firle Beacon, and more…
Late afternoon in April.

January morning.

I hope I've managed to demonstrate the great variety of photographic opportunities that this relatively small area has to offer. If you live locally, perhaps this mini-guide will help you see some familiar places in a new light. And if you're planning to visit Brighton or its surrounds, I trust the article will give you some useful insights and save valuable time. This little corner is as good a place as any to start exploring the South Downs photographically. And as the available vantage points collectively cover all directions, "the Falmer triangle" can yield good results in any season, both in the morning and in the afternoon.
If you're interested in the whys and hows of my approach to photographing the South Downs, or the general concept of telephoto landscape, you might want to give these posts a read:
South Downs in telephoto
Telephoto landscape – from conception to editing